I just deactivated my Facebook account. Not deleted. Deactivated. So it's all still there…all I have to do is log back in. But I'm still having a mild panic attack. I think this is just reinforcing that I need a break from the site…but good grief. I'm terrified that I'm going to miss something terribly important. And can you blame me? It isn't that much of a stretch. In fact, I know people who have taken a brief hiatus from the world's most popular social site, only to find out weeks later (when they decide to log in again) that something awful happened, and they were left in the dark. I suppose you could argue that it doesn't matter if I don't know about it…or that if I would only have known through Facebook, it must not be anything that important to begin with. Years ago, I would have agreed with you. Now? Well, it's like this:
Earlier this afternoon, I posted a status outlining my intention of taking a weeklong "vacation" from Facebook. The site has been little more than aggravation for me lately (as you may have noticed, from my earlier posts). I suffer from racing thoughts as it is, and the constant inundation of noise from Facebook certainly isn't helping. I'm logged into the site when I'm working, so I can see what's going on between pages of site copy. I'm logged in during my free time, so I can converse with friends and family members. Some people joke that they spend every waking moment logged in to Facebook. For me, for the last year, that has been a reality. I've been craving quiet. More and more lately, I've found that I need to just stop all of the excess noise. I don't need to know every little thing that goes on…and most of the time, I'm happier not knowing. But then, there's this:
No sooner than I had posted my status announcing that I'd be taking leave of the site, I noticed a close family member's status. She had apparently just gone to the doctor regarding a chronic issue, and received some news indicating a head injury. Well…no. I didn't know that at the time. She cracked a joke about being "brain-damaged", which subsequently threw me into a panic (Lots of things have this effect on me, you'll see). A quick phone call later, and I got things straightened out. The news isn't "that serious" (she said), and doesn't necessarily indicate a brain injury, but rather inflammation of the temporal bone. The extent of the inflammation and whether or not there has been any additional damage remains yet to be seen. Still, I found out about this via Facebook.
As I'm writing this, I'm recalling other events…when my sister, who lives out of state, was in a serious car accident about a year ago, her mother-in-law sent a mass-message via Facebook.
When I posted that status earlier, I had a few people reply "But how will I contact you??"
Now, my email address was listed on my profile. I also have accounts on Twitter, Tumblr, Pinterest, and Google+. And then, of course, there are the old standbys: snail mail, face to face visits, and phone calls.
To be fair, I'm a hermit, so I tend to shy away from those last two. But really? As if Facebook is the only way to contact/keep tabs on a person. Yet so many people rely on it solely. I don't like it.
I'm trying to convince myself that it'll be ok. If someone really needs to get ahold of me, they'll figure something out. After all, I'm not dropping off of the planet. It's just a single website. Still, it feels like I just unplugged from The Machine. I am no longer a part of The Matrix.
I've been meaning to do this for some time, now. The biggest reason I haven't is because it's been the only consistent means of contact I have with most of my siblings, particularly my brother who has been serving in Afghanistan. It isn't as though we've had intimate discourse or anything…mostly, his posts have been about how much the desert sucks, and how he can't wait to come home…but still, it was enough to know he's alive.

Now, his tour is coming to an end. I don't need Facebook in the same way anymore. And more importantly, I don't want it. When I'm not miserable because I've been comparing my life to the highlights of someone else's, I'm miserable because I've been debating politics with my family for hours, or because I've been inundated with posts that just completely discourage my faith in humankind. Despite being a public forum, Facebook gives people the illusion of a private space. What a person posts in a status message to their own wall is usually relatively unfiltered…stuff they'd never say out loud in mixed company. While I've made some great connections via Facebook, I feel like the site also has the potential to bring out the worst in people. At the very least, there are just some things that I don't want to know.
I'm panicking now, but I figure that's a natural response.  Even though I'm not unplugging completely (at the very least, I need to be online for work), I'm still looking forward to potentially experiencing Third-Day Syndrome. I'll let you guys know how it goes. It's comforting, though, to know that I'm not alone. In fact, the Sabbath Manifesto has created an upcoming National Day of Unplugging, to take place from sunset March 23, to sunset March 24, 2012. Who's in?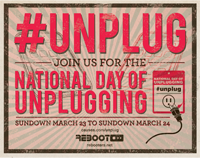 Have any of you taken a technological sabbatical? How long did it last? Did you notice a difference?
Would you ever consider pulling the plug on Facebook, either temporarily or permanently? Why or why not?
Tell me about your experiences in the comments.